---

Four Constellations, 2022


steel rebar, rope
dimensions variable







︎1911 7th AVE @ West Washington Blvd, Los Angeles, CA

---

For this project I drew out the four constellations I can see in the night sky in early February, 2022. I wanted to mark this positioning of the stars on the ground as a reminder to look up at the sky at night. Even in the city you can still see the brightest constellations.

The rope line travels though and around the plants creating abstract shapes that mirror the logic of the constellations in the sky. Drawing lines between the stars also makes them less abstract. Telling stories about the stars helps us to remember them.


I have kept the shapes simple in both dimension and material so that they visually intertwine with the surrounding plant life but also float above it. I wanted the drawings to be abstractions of the sky but also to read as charts, or shapes that are easily absorbed into the landscape. The constellations might also become supports for the surrounding plants as they grow up around the constellations. I used rebar for the supports because it recalls the foundation of the building that was here previously – a house that burned down 10 years ago – and because of all the chunks of cement and bent iron pieces that David Horvitz sourced from the LA County Museum demolition at the beginning of Covid and placed around the garden. Be very careful of the rebar sticking out of the ground while walking around.


There is an audio component to this work and you can listen to the stories about the stars while you walk around the garden. Or you can just lie on the platforms and look for the constellations while you listen. The various myths associated with these stars give a glimpse of how we search for and create narratives in order to make sense of our lives: the time we spend, the actions we take, the injustices we feel, and things we do not understand. Ultimately, I think the stars give us a great amount of perspective on such things while keeping us open to their great mystery.




Twisted Octagon, Yellow Rectangle, 2016-19
Cotton twine, stainless steel nails, paint on wall,
75 x 95 x 10 inches

Collection of the Los Angeles County Museum of Art,
purchased with funds provided by the Whitecap Foundation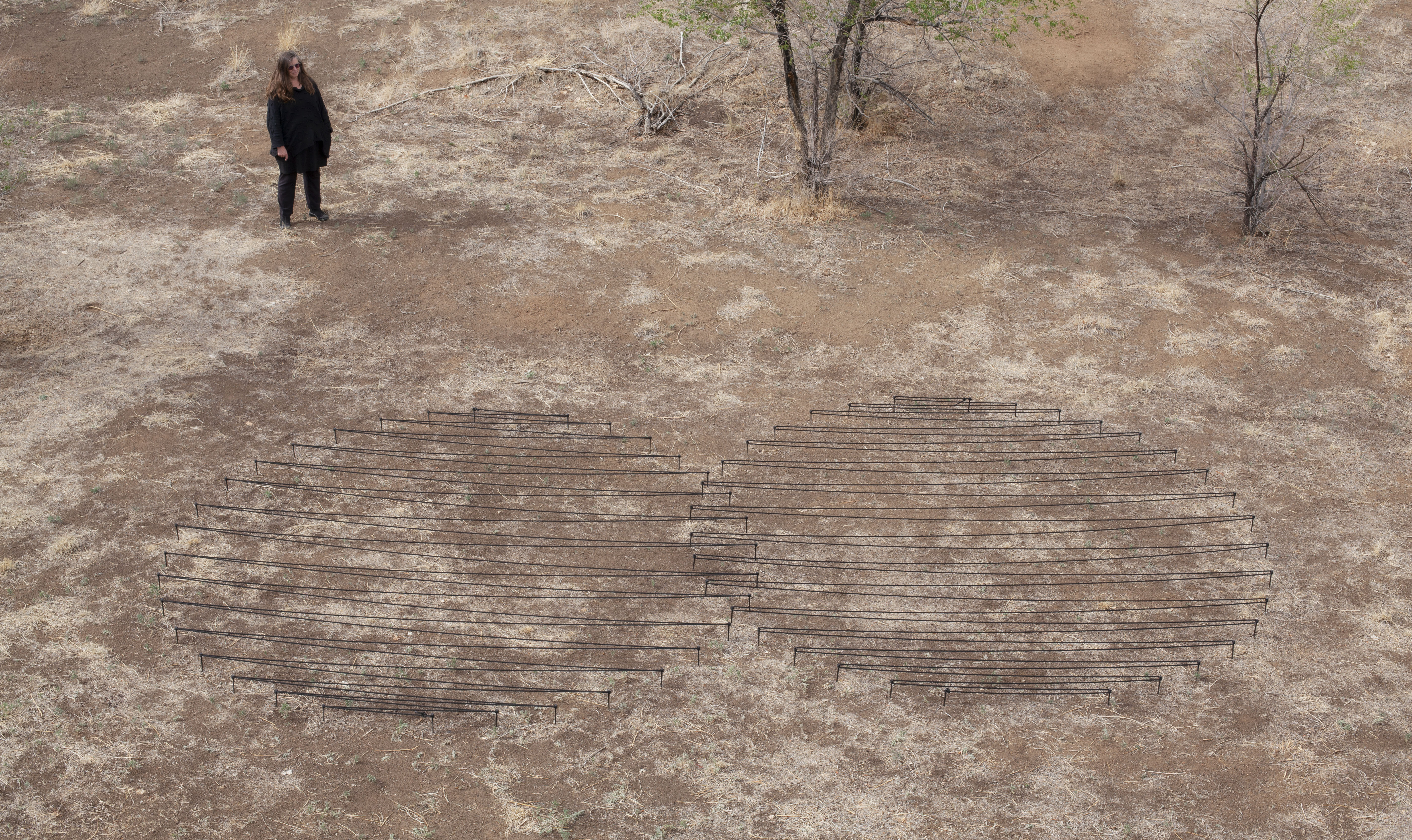 Black Cloud, 2021
Polypropylene rope, nails, powder coat
24 ft x 13 ft x 8 in


Rotating Cube, Parallel Projection (Two Color Systems)
Site-specific installation, private collection, Los Angeles
Acrylic yarn, stainless steel nails, hardware, pva glue,
81.5 x 90.5 x 7 inches
This artwork is restrung once a year with alternating color systems based on the primary colors of light and pigment. The ritual of taking apart and restringing the cube honors the impermanence if all things, and reflects on the sculptures yearly rotation around the sun. The color pattern shifts back and forth between the two primaries systems of matter and light, implying the balance of opposites within working systems.